Rosh Hashanah Recipes
Celebrate the new year and a new beginning with these delicious recipes from Jamie Geller's kitchen.
Posted on 12.09.23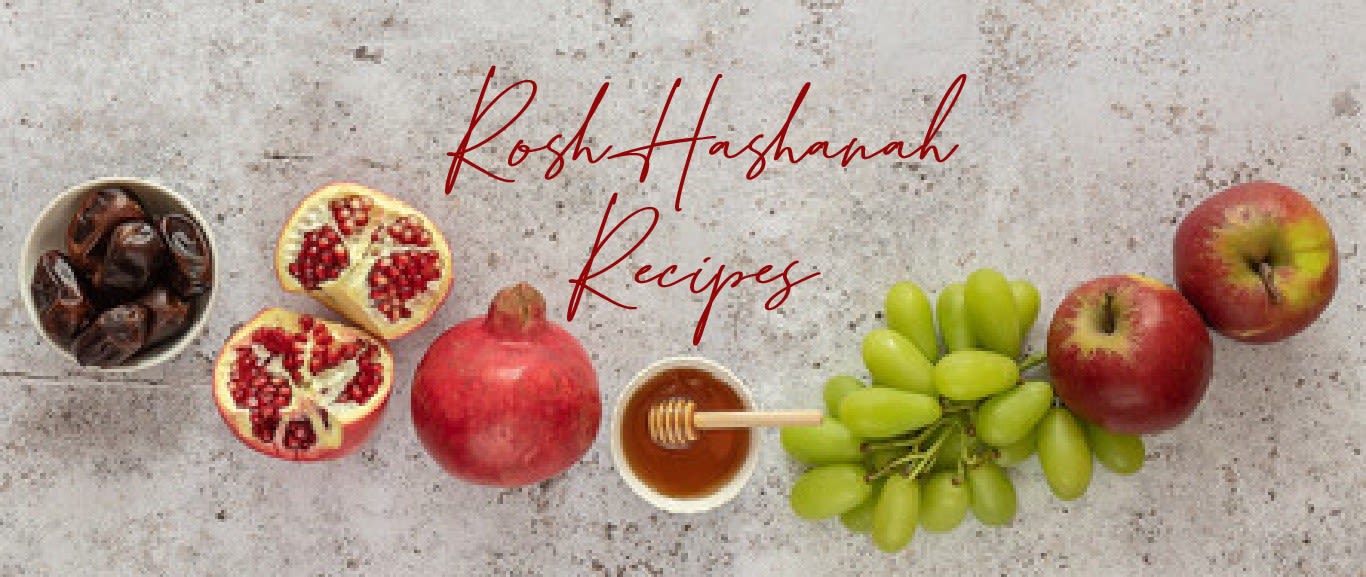 A popular custom to help bring in the new year is with symbolic foods, called simanim, that are meant to point the way to improved circumstances. The most well-known siman is dipping apples and honey to help us have a sweet new year, but it doesn't stop there. Traditional Jews make it a point to eat these special foods (that include spinach, leeks, gourds, cabbage, carrots, pomegranates and dates), preceded by a heartfelt prayer connected to the character of the food. There's even a custom to pray that in the coming year we will be at the head, rather than at the tail end, of good fortune.
We also enjoy a new fruit on the second night of the holiday. Something new for the season that we have not eaten for a year. Pomegranates have been a favorite new fruit.
Editor's Note: We've marked which recipes are FREEZER FRIENDLY so that you can cook and bake ahead of the holidays. If a holiday falls on a Thursday-Friday, be sure to read Eruv Tavshilin to properly prepare for Shabbat.

Applesauce Cake

–

My favorite recipe now! One bowl, dump & go, very forgiving recipe and it turns out moist! Excellent for Rosh Hashanah!

FREEZER FRIENDLY

!

| | | |
| --- | --- | --- |
| Baked Honey Crumb Doughnuts/Muffins – These doughnuts are the perfect way to end your holiday meal. They're all dressed up and ready to be served to family and friends. They can also be made into muffins or mini-muffins. FREEZER FRIENDLY! | | |
Honey Apple Strudel

– Does baking strudel intimidate you? Not this recipe! The apples and honey come together so there is no need for added sugar. Delicious and super-easy to make!
Apple and Honey Round Babka

– Why not take Rosh Hashanah up a notch this year with a round Apple and Honey Babka? That will guarantee you a sweet year ahead!
Pumpkin Maple Bundt Cake

– This beautiful cake is a parve version of the seasonal pumpkin pie. A delicious dessert to end your holiday meals.
Poultry and Meat – Main Course
Secret-Spice-Rub Roast Beef – Use the secret rub on roasted chicken, fish and vegetables. The roast beef is a versatile dish that is easy to make, quick to prepare, and delicious!

FREEZER FRIENDLY!
Braised Flanken – This dish is a real winner. So easy to make, yet it tastes as if you spent all day in the kitchen! Great when you face a lot of holiday cooking.

FREEZER FRIENDLY

!
Overnight Brisket

– Cook your main course overnight and wake up to the delicious smell of dinner. This brisket, although quick and easy to make, is succulent and savory – perfect for your festive table!
Salads and Sides
| | | |
| --- | --- | --- |
| | | Black-Eyed Peas, Leeks, and Zucchini – A delicious (and healthy) way to eat the simonim (signs for a good judgment). Easy and quick to make, colorful, and light enough to balance a heavy holiday meal. |
Spinach Salad with Pomegranate Dressing

– It's the combination of beauty and texture that makes this salad both pleasing to the eye and palate. Crisp, fresh spinach leaves, vibrant ruby red pomegranate seeds, and crunchy croutons round out this recipe.
Roasted Beets

– These roasted beets are a wonderful side to chicken or served as part of a first course with other salads. Quick, easy, delicious!
Fish
Warm Salmon Salad

– Enjoy this luscious (and delicious!) warm salmon salad with colorful peppers, raisins, pine nuts, and spinach. Quick and easy to make.

 
 
Moroccan Fish

– This stunning and flavor-packed fish is a staple Shabbat appetizer among Sephardi Jews. Served hot with sauce. You don't have to be Sephardi to love this fish!
Salmon Gefilte Fish

– Want to use a traditional recipe but add a bit of zing? Jamie Geller incorporated poached salmon into the gefilte fish recipe to give it a delightful change of taste.

 
 
Scallion Dill Sauce

– I recently made this sauce and so many of you asked for the recipe. It is so good with salmon, but you can serve it with chicken or veggies, too.
Soups
Squash, Fennel, and Leek Soup

– You don't have to work hard to make a soup rich in flavors, warming and comforting. Put seasonal vegetables in a pot and enjoy! Delicious!!

 
 
Pumpkin and Onion Soup –

Thick and luxurious but not heavy, with a fresh blend of flavors that makes it great as a starter for a meal, and with a scent that fills your home.
*** 
Jamie Geller is one of the most sought-after Jewish food and lifestyle experts worldwide. She is the bestselling author of 5 books and founder of Kosher Network International, publisher of JamieGeller.com featuring more than 10,000 recipes, articles, and videos.  Check out her new #1 Amazon Bestseller, Brisket 101 and her new family meal plan "Fresh Families" at FreshFamilies.us.