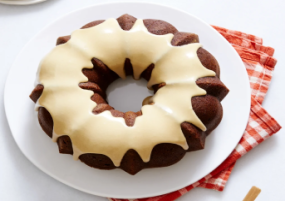 Pumpkin Maple Bundt Cake
This beautiful cake is a parve version of the seasonal pumpkin pie. A delicious dessert to end your holiday meals.
Posted on 20.11.22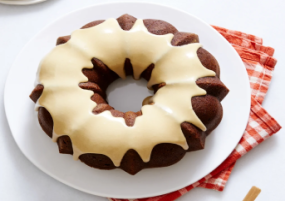 Pumpkin spice fans will enjoy this dairy-free alternative to the traditional Thanksgiving pumpkin pie.
Make this cake your own by adding chopped pecans or walnuts after it's glazed.
And try this cake's Maple Glaze on Challah Cinnamon Buns for a seasonal twist on a sweet breakfast favorite.
Preparation Time: 25 minutes
Level of Difficulty: Easy to Medium
2 teaspoons baking powder
2 teaspoons ground cinnamon
¼ teaspoon ground cloves or allspice
1 cup extra virgin olive oil
1 can (15-ounce) pumpkin purée
1½ teaspoons vanilla extract
½ cup confectioner's sugar, sifted
2 tablespoons maple syrup
1. Preheat oven to 325°F. Grease and flour a 12-cup Bundt cake pan.
2. In a medium bowl, combine flour, baking powder, soda, salt, and spices; set aside.
3. In the mixing bowl of a stand mixer, beat on medium speed extra–virgin olive oil, maple, and sugar until the sugar is incorporated and no longer grainy. Add eggs, one at a time, beating well after each addition. Beat in pumpkin and vanilla.
4. With the mixer running on low speed, slowly add dry ingredients into batter. Beat only until all ingredients are blended.
5. Spoon batter into the prepared Bundt pan. Bake at 325°F for 55 to 60 minutes, or until a wooden toothpick or cake tester comes out clean when inserted in center.
6. Cool in pan on a rack for 15 minutes in the pan. Invert cake onto a serving plate to cool completely.
1. Whisk sugar and syrup together to form a thick glaze.
2. Spoon glaze over cooled cake before serving.
***
Jamie Geller is one of the most sought-after Jewish food and lifestyle experts worldwide. She is the bestselling author of 5 books and founder of Kosher Network International, publisher of JamieGeller.com featuring more than 10,000 recipes, articles, and videos. Check out her new #1 Amazon Bestseller, Brisket 101 and her new family meal plan "Fresh Families" at FreshFamilies.us.