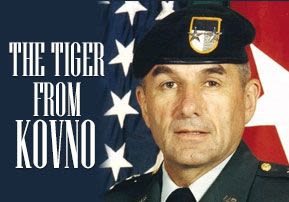 The Tiger from Kovno
There are hero stories and there are "Kiddush Hashem" stories, but the unprecedented true story of Major General Sidney Shachnow, ob"m, combines both and tops them all…
Posted on 07.11.18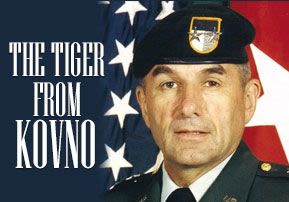 There are hero stories and there are "Kiddush Hashem" (sanctification of Hashem) stories. The phenomenally unprecedented true story of Major General Sidney Shachnow, of blessed memory, combines both and tops them all. This is the story of the most disadvantaged underdog rising to the loftiest heights; it's a story of survival, tenacity and the potential of a Jewish soul.
Imagine being a five-year old boy in Lithuania when World War II broke out and the Nazis overran your country. Imagine being six-years old and your family and you are forced into a forced labor camp and later the Kovno concentration camp.
The horror show was only beginning. When Sidney was nine in March of 1944, the Nazis decided to liquidate all of the children at Kovno by shipping them to Auschwitz to be gassed. Sidney barely escaped and hid the woods, nearly starving to death quite a few times. Although he ultimately found refuge with a Catholic family, he had to hustle goods on the black market in order to survive. Life was not only tough but perilous too.
Maj. Gen. Sidney Shachnow, ob"m – image courtesy US Army
"I developed an instinct for survival," he wrote in Hope and Honor: A Memoir of a Soldier's Courage and Survival, a book he co-authored with Jann Robbins. Fewer than 5% of Kovno's Jews survived with him.
Miraculously, after the war, Sidney was reunited with his mother, who had spent the Holocaust in the Kovno Concentration Camp, and his father who had been with the Partisans fighting the Nazis in the Lithuanian forests. The three made their way to Nuremberg, Germany and received visas to emigrate to the USA, where they settled in Salem, Massachusetts in 1950, when Sidney was 16.
The first time Sidney Shachnow ever sat down in a school classroom was at age 16 in Salem.
Barely able to speak English, Sidney joined the US Army a few years later. Shortly afterward, he married his high-school honey Arlene, also from Salem.
"Sidney came to the USA with nothing to distinguish himself," his widow Arlene told me. "When I married him, he was a PFC (Private First Class), a simple enlisted guy in the Army. But he knew how important education was and he was determined to make something of himself. His strength of character was beyond description."
His lack of education and basic language skills didn't deter his tiger eye, focused on success. Sidney rose up the enlisted ranks to Sergeant First Class, then applied to OCS (Officer's Candidate School), from where he graduated 1960 at the age of 26. The Tiger from Kovno was then accepted into America's finest Special Forces unit, the Green Beret, who achieved fame and glory during the Vietnam War.
Moving up the officer ranks from 2nd Lieutenant to 1st Lieutenant to Captain, he commanded the 5th Special Forces Group's camp at Long An, Vietnam in the Mekong Delta where the fighting was especially fierce. There, he earned the first of his Silver Stars for valor as well as a Purple Heart. When shot in the leg, Captain Sid applied a tourniquet to his own leg wound and continued to lead his men. He was shot in the arm as well in the same battle.
While recovering from his wounds in the United States, the Tiger from Kovno – who had never finished attended elementary school and never finished high school – received his bachelor degree from the University of Nebraska and went back to Vietnam for a second tour of duty where he received another Silver Star and three Bronze Stars with "V" device. Just listing all of his decorations would require an article in itself.
Continuing his climb up the ranks, the Tiger from Kovno later commanded the highly secretive Detachment-A, known in special-forces jargon as "Det-A", Berlin Brigade. This was a clandestine unit of Cold War Green Beret guys who remained on high alert 24-hours a day. This covert unit consisted of selectively trained and language-qualified members of Special Forces, who brought vital culture, geographical and language skills to their assignment. Their missions were highly classified and they dressed in civilian clothing, carrying non-American documentation and identification at terrific risk, especially if they were caught by Soviet or East German security forces. That Tiger never balked.
This brings us to an amazing milestone in Sidney's life and in the history of the Jewish fighting man. At the end of the Cold War, he became the commander of US Forces in Berlin, the capital of Hitlerism, Fascism and Nazi tyranny. He even lived in a villa that was once owned by Hitler's finance minister.
Major General Sidney Shachnow commanded the US Special Warfare Center and School from 1991 until his retirement in 1994. He was not only the American dream, rising from a penniless, barely literate Holocaust survivor to became a decorated Special Forces icon and two-star general; he was a warrior in the tradition of our people's most courageous warriors, like Gideon, Yiphtach the Gileadite and Judah Maccabee.
Maj. Gen. Sidney Shachnow of blessed memory – modern-day legend, an honor to his people and his adopted homeland, Holocaust survivor, Vietnam War veteran and one of America's top Army officers in Berlin during the Cold War – died on Friday, September 28, 2018 at the age of 83. He is survived by his wife Arlene and a loving and close family that includes four daughters, fourteen grandchildren and six great-grandchildren. His yahrtzeit is easy to remember, for it's the 19th of Tishrei, the day after Rebbe Nachman's.
We salute you, Sidney, and we'll never forget you. We Jews have long memories – we don't forget, especially heroes like the Tiger from Kovno.