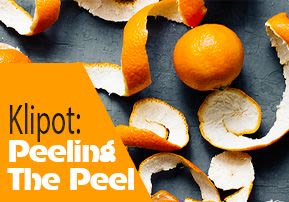 Klipot: Peeling The Peel
What are the "klipot" that we always hear people talking about? Are they ever useful? How do they affect our daily lives? Let's get some answers…
Posted on 15.01.19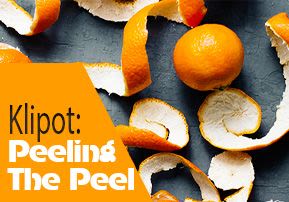 Many throw around the term klipot, literally "peels", like potato peels or orange peels, but few really grasp what the word really connotates. By fully understanding the concept of klipot in Kabbalah, we can make tremendous strides in personal growth.
"Klipot" are spiritual layers that temporarily block Divine light from reaching a person, just as a tangerine peel blocks one from reaching the sweet fruit inside. As such, the term klipot refers to external layers whereas the Hebrew word pri, fruit, refers to the internal essence and sweetness. When speaking about personal and spiritual growth, the klipot are our external dimensions that either surround us or that we surround ourselves with, sometimes consciously and sometimes unconsciously. On the other hand, pri refers to our inner dimension, the genuine essence and sweetness of a person.
Very much a part of our daily lives, the klipot, according to the holy Kabbalist Rabbi Yehuda Leib HaLevi Ashlag osb"m, are the obstacles and blockages that prevent a person from being "real" – him-or-herself – and effectively reaching his or her own internal dimension, causing them to be superficial or to suffice with the superficial.
For the sake of simplicity, let's refer to the klipot as "peels", like we do in simple English. In like manner, to avoid confusion, let's refer to the pri as the fruit; in reference to us, the "fruit" is a metaphor for the soul.
People ask, "What's wrong with the peel?" Great question: the peel protects the fruit in all types of positive ways. Without the peel, the fruit would be ruined…
True and correct! But remember one thing – the peel is necessary as long as the fruit is not yet ripe. Similarly, peels are OK for a person, as long as that person is not ready to accept and contain the truth. If he or she is not ready for the truth, then the Divine light that constitutes the truth will cause them damage if they don't have a protective peel, just like 200 watts of electricity will burst a 40-watt light
bulb. Therefore, a person must be a worthy vessel for a given measure of Divine light that he or she is exposed to; if not, they need the protection of a peel.
But remember, in spirituality, the peel is not truth – indeed, it hides the truth, just like the previous example of the light bulb, where we'd need a shade (peel) to dull a light that's too bright (truth); otherwise, it would damage the eyes that gazed at it.
Hashem's Holy Name is truth, for His light is truth. The truth is capable of burning a person if he or she is not ready for it, just like Joseph's revelation to his brothers almost caused them heart seizures.
Since light is truth, lies create peels that hide the truth. When a person lies, he must sustain the peels he creates instead of feeding more light to his soul that he could have done if he had acted, thought and/or spoken in truth.
Here's an example:
Marriage is an extremely bright light that connects two halves of a soul – the male half and the female half – into one holy entity. Happily married couples who live in holiness and maintain personal holiness emanate a huge measure of Divine light that manifests itself in an inexplicably peaceful home, where guests enter and say, "I don't know why, but it feels so peaceful here – so calm and tranquil." The Divine light in that home is soothing to an upright guest. But, if the guest lacks an adequate vessel for that amount of Divine light, he or she will be anxious and on edge. The shady guest will either have to flee or develop a quick peel to diminish the bright light and protect himself by doing something improper, being gruff, impolite or outright intolerable.
Let's take another example: a woman's beauty is a very bright light that must be preserved in holiness. Her husband – the other half of her soul – is a worthy partner to share her light. Strangers are not. That's why she must moderate her appearance in front of others. When she does, her "peel" – the modest clothes and hair covering – protect her from outside intruders who would want to steal her, in whole or in part, from her husband. But, when her "peel" becomes immodest, such as a head covering and clothes that make her even more enticing to other men, then the peel is detrimental, for it is a lie that will only block Divine light from reaching this woman.
The same goes for men and men's clothes. They too must be modest.
The workout in the gym is another example, applicable to both men and women. When a person's goal is functional fitness so that he or she can serve Hashem better, then the strong body, the "peel", is a wonderfully useful housing that serves and protects the soul, the "fruit". But, when a man's consideration in working out is developing 21" biceps and a woman's consideration is developing a more enticing body for all to see, then their body, the peel, will obstruct Divine light from reaching their soul, the fruit.
To get close to Hashem, we must shed our peels. We do tht by learning emuna and clinging to truth, for as Rebbe Nachman teaches us, emuna is truth.