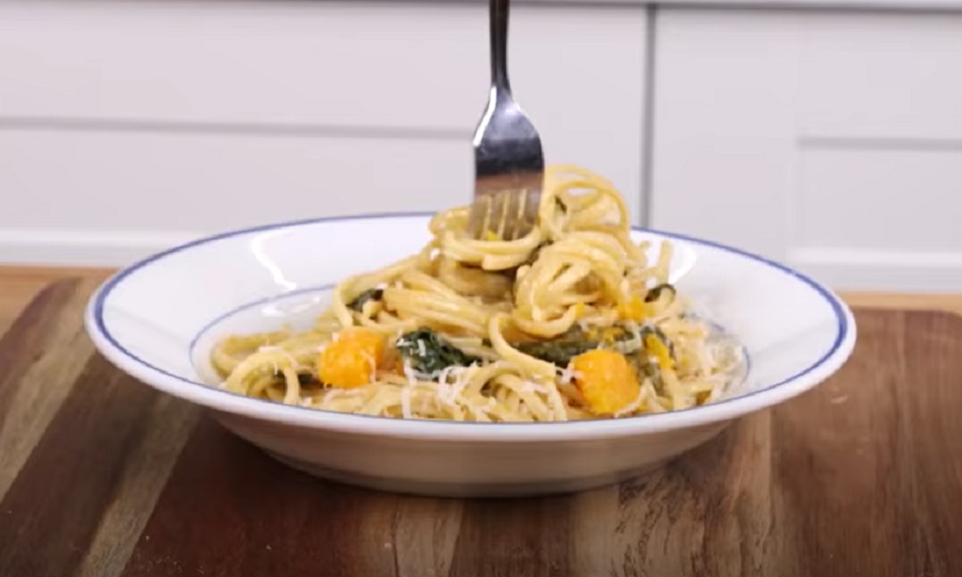 One-Pot Winter Veggie Pasta
Here's the perfect busy mom's dinner right here--from fridge to table in less than 30 minutes. Plus, there's only one pot to wash!
Posted on 10.01.21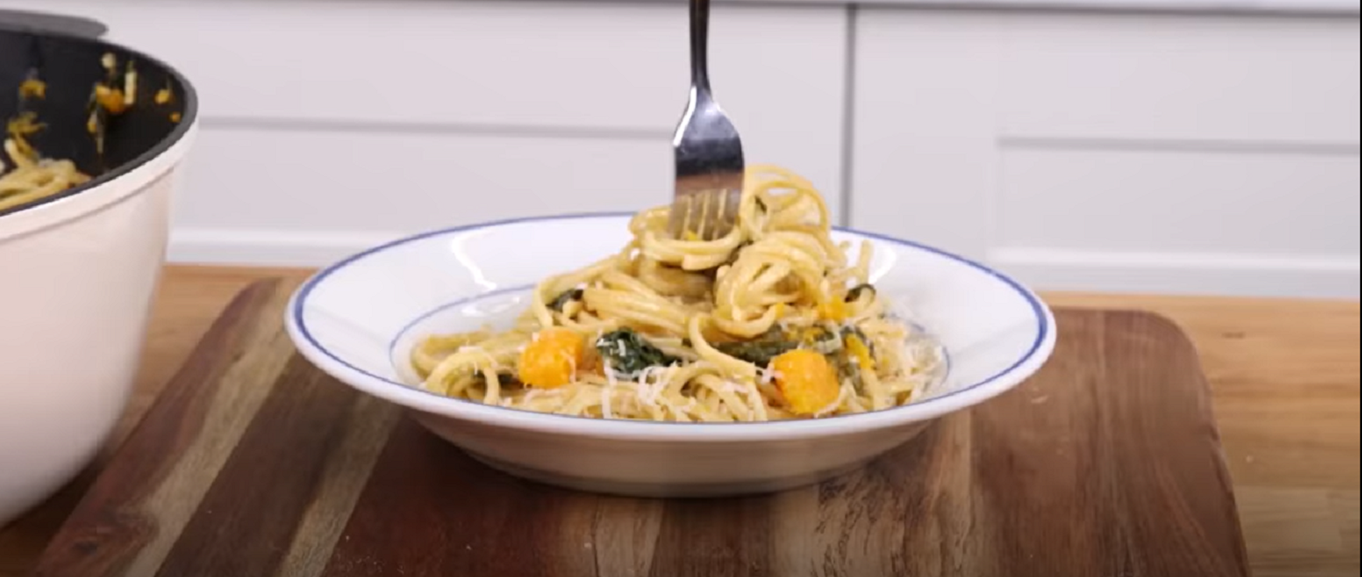 Serve this as a dairy main dish topped with Parmesan, or omit the cheese and serve as a side for roasted chicken, meat, or fish. 
Save some time on prep by purchasing pre-cut butternut squash. Don't have kale or escarole? Use spinach instead. 
Preparation Time: 15 minutes 
Level of Difficulty: Easy 
Kashrut Type: Parve or Dairy  
12 ounces linguine, uncooked 
2 cups butternut squash, cubed 
2 shallots, thinly sliced 
4 garlic cloves, thinly sliced 
Pinch of crushed red pepper 
Several fresh thyme sprigs 
3 tablespoons extra virgin olive oil 
½ teaspoon freshly ground black pepper 
Garnish: extra virgin olive oil and Parmesan cheese (optional) 
1. Layer linguine, squash, kale, escarole, shallots, garlic, crushed red pepper, thyme, olive oil, salt, and pepper in a Dutch oven or large pot with a lid.  
2. Pour water over ingredients, and then place over medium high heat. Cover pot. Cook for 10 to 12 minutes, until water is absorbed and the pasta is al dente. Toss ingredients occasionally throughout cooking.  
3. When pasta is done, remove thyme stems and discard.  
4. Transfer cooked pasta to bowls. Serve with a drizzle of olive oil and a sprinkle of Parmesan cheese(optional). 
***  
Jamie Geller is one of the most sought-after Jewish food and lifestyle experts worldwide. She is the bestselling author of 5 books and founder of Kosher Network International, publisher of JamieGeller.com featuring more than 10,000 recipes, articles, and videos.  Check out her new #1 Amazon Bestseller, Brisket 101 and her new family meal plan "Fresh Families" at FreshFamilies.us.