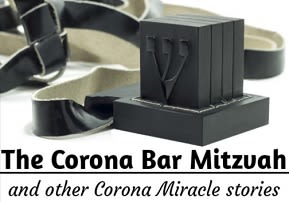 The Corona Bar Mitzvah
Some incredible stories have come to us with people doing Rabbi Arush's "Chok Todah – Law of Thank You" and seeing miracles, even with Corona! The law works!
Posted on 19.05.20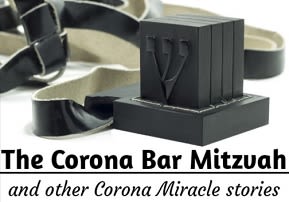 I heard this story directly from the boy himself. He called into one of Rabbi Arush's radio programs to say thank you. He was so excited to tell his story that he hardly stopped to listen to Rabbi Arush say "mazal tov" on his Bar Mitzvah…
My Bar Mitzvah was a couple weeks ago. We didn't know if it was going to happen! You could only pray outside with 2 people together – it was forbidden for there to be a proper minyan for me to have a Bar Mitzvah and read from the Torah.
The week before my Bar Mitzvah, I decided to do the "Chok Todah – Law of Thank You." I said thank you that I didn't think I was going to be able to have a proper Bar Mitzvah and read from the Torah.
That Motzei Shabbat (Saturday night) we learned that the government had now approved praying in a minyan outside with up to 19 people! I could have a Bar Mitzvah after all, and I did!
I decided on my Bar Mitzvah day to do the Chok today again, but this time for my suffering over a cousin who is in the hospital, in the ICU with Coronavirus. Within a week, my cousin left the ICU and was no longer in life-threatening danger!
Rabbi Arush commented: "The law works! The law works!"
This story is adapted from the weekly newsletter of Chut shel Chessed in Hebrew, written in to Rabbi Arush as a thank you after recovering from Coronavirus:
Shortly after Purim I was diagnosed with Coronavirus. I went into isolation in my room, despondent over not only my pain, but the prospect of being alone in this room for an unknown amount of time. My friends told me stories of people who spent weeks on end alone, unable to get a negative Corona test verifying that they were finally over the virus (Editor's note – my downstairs neighbor experienced this, it took her 8 weeks to finally get out of quarantine).
For years I had read Rabbi Arush's books and listened to his lectures. I decided to stop all the negative thoughts, and turn the situation around. I decided that I was in His hands, and only His hands. What changed? What's with all the bad thoughts?!
If Hashem put me into this situation, then I was going to make the most of it! I decided to turn bidud (quarantine) into hitbodedut (personal prayer) (both share the same root in Hebrew). That's it! I am quarantined with Hashem!
I spoke to Hashem every day and told Him what was on my heart. I did teshuva to the best of my ability. And I did the Chok Todah every day, even though sometimes it was incredibly difficult due to my sickness.
Every day my condition improved. Within a short time I was no longer in pain. And within 3 short weeks, I was released from quarantine, healthy and strong with no memory of what I had just gone through – just before Passover, so that I was able to have a proper Seder!
Even more importantly, I never felt quarantined. I was never alone in that room! I didn't go out of my mind – rather, I felt that Hashem was with me constantly. My connection with Hashem was close and loving during those difficult days.
The best thing that happened to me was that I met myself face to face. I got close to my Father in Heaven and I promised Him that I would thank Him every day from now on. For my life. For everything. Thank you!
I hope no one has to go into quarantine. But if you're in quarantine, use the opportunity to get to know your Daddy who loves you! Speak to Him, thank Him, and turn your quarantine into personal prayer too!