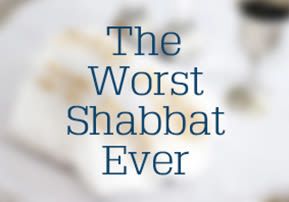 The Worst Shabbat – A Story of the Baal Shem Tov
The host despised Chassidim; he cursed at the Baal Shem Tov and his students. He ran through Kiddush then threw a few morsels of dry black bread in their direction...
Posted on 08.06.14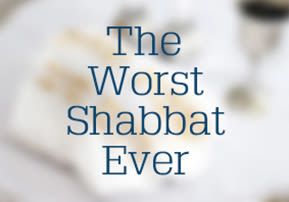 Rav Arush has opened my eyes and the eyes of many others to an amazing, profound, yet simple spiritual law: when we go through a difficult time, we should always be thankful because we could/should have gotten worse.

No matter how painful, we should know in our hearts that Hashem has tempered strict judgment with mercy. To be honest, I can't think of a better way to survive and potentially blossom as a result of dealing with such impossible challenges that people go through these days.

There seems to be a whole 'lot of judgment goin' on, and it looks pretty cruel and merciless, to be honest. I hope this story about the Baal Shem Tov will help us see that no matter how bad things appear, they could be much, much worse.


One day, the Baal Shem Tov (BESHT) and three of his disciples decided to travel to a distant city. If you've heard of the BESHT's horses, you would know they weren't ordinary horses. Alexei, the BESHT's carriage driver, would let go of the reigns and the horses would gallop at incredibly high speed while barely (or not even) touching the ground, to a destination that only they and the BESHT knew. In a few hours the horses traveled distances that would normally have taken several days.

On this particular journey, however, the horses seemed to have lost their way. Not only that, the BESHT lost his superhuman powers of perception and divine inspiration. They found themselves wandering through an unfamiliar forest, whose trees were so dense that they couldn't tell if it was day or night. They wandered like this for some time until they reached a lone cabin in a clearing.

They were confident that the owner of the cabin would be understanding and allow them to rest over Shabbat, as it turned out that it was Friday afternoon. To their shock, they quickly discovered that their host despised them and all things Chassidic. Furthermore, this man was crude, rude, and lived in deplorable conditions. The Chassidim didn't know how they were going to get through this Shabbat.

The host gave them certain ground rules if they insisted on staying: no talking, no long prayers, no questioning the kosher status of the food or asking for anything that might make their stay a bit more comfortable. They were to be completely obedient and quiet, otherwise they would quickly find themselves in the great outdoors for the remainder of Shabbat.

As the sun began to set, they noticed that the man didn't do any special Shabbat preparations. He slammed a single candle into a lump of clay in the middle of the makeshift table, quickly mumbled the Friday night service without giving his guests a chance to participate, and ran through Kiddush faster than a Ferrari can run a red light.

When it came time to do hamotzi, he threw slices of coarse pumpernickel bread at the Chassidim, and cursed them repeatedly when they asked for whole rolls. The curses, yelling, and insults continued all throughout Shabbat. Meanwhile, the BESHT still hadn't regained his powers of perception, so he was clueless as to the reason Hashem put them in such a mess.

Requests for something to make their sleeping conditions more comfortable were answered with vile curses and insults. Eventually, the host threw a woman's garment for the BESHT to use as a pillow, and shaatnez (forbidden mixture of wool and linen) for his Chassidim to use.

The horrible night was followed by an even more unbearable day. The unfortunate visitors were bombarded by curses, yelling, and insults throughout the entire day. They were starving, as their host had not offered them a decent meal. They did their best to remain quiet for the remainder of Shabbat, and yearned for the moment they could escape.

As Shabbat came to a close, the iron-fisted host suddenly refused to let them leave. At his "insistence," they were obliged to stay for another two days. Finally, after three days of no food and little sleep, they begged their host to release them.

Before the man could answer, a young, sweet-faced woman stepped out of a room and smiled at them. The Chassidim could barely keep their knees from buckling at such a shockingly unexpected sight. "What are you doing here??" they could barely stammer.

Walking over to the BESHT, she said, "I'm Sarah, the young orphan who worked in your home. When you and your wife took me in, I was covered in lice and sores. The Rebbetzin used to comb me and scrub me every Friday afternoon, and I would cry out in pain. One Friday, the pain was unbearable, and I must have screamed out louder than usual. Your wife gave me a slap across the face, and you saw the whole incident and did nothing to help me. As a result, there was a Heavenly decree that you should lose your portion in the World to Come.

When I married this man, who is a hidden tzaddik, the sentence was revealed to us. It disturbed us greatly, and we searched for a way to overturn it. Through our many prayers we succeeded in reducing your original sentence to a lighter one: losing the pleasure of one Shabbat, which is a taste of the World to Come. Now, thank G-d, after having suffered the past several days, your portion is complete."

It is my sincere hope that we can all internalize this amazing concept, so that we can go through all of our most painful moments with a smile on our faces and the knowledge that, even though we may suffer now, we will have an eternity of happiness very soon. Amen.