The Power of Tikkun Chatzot
A person in this world is constantly being robbed of his dearest possessions - inner peace and tranquility. But there's a way to recover them from the robber...
Posted on 23.09.12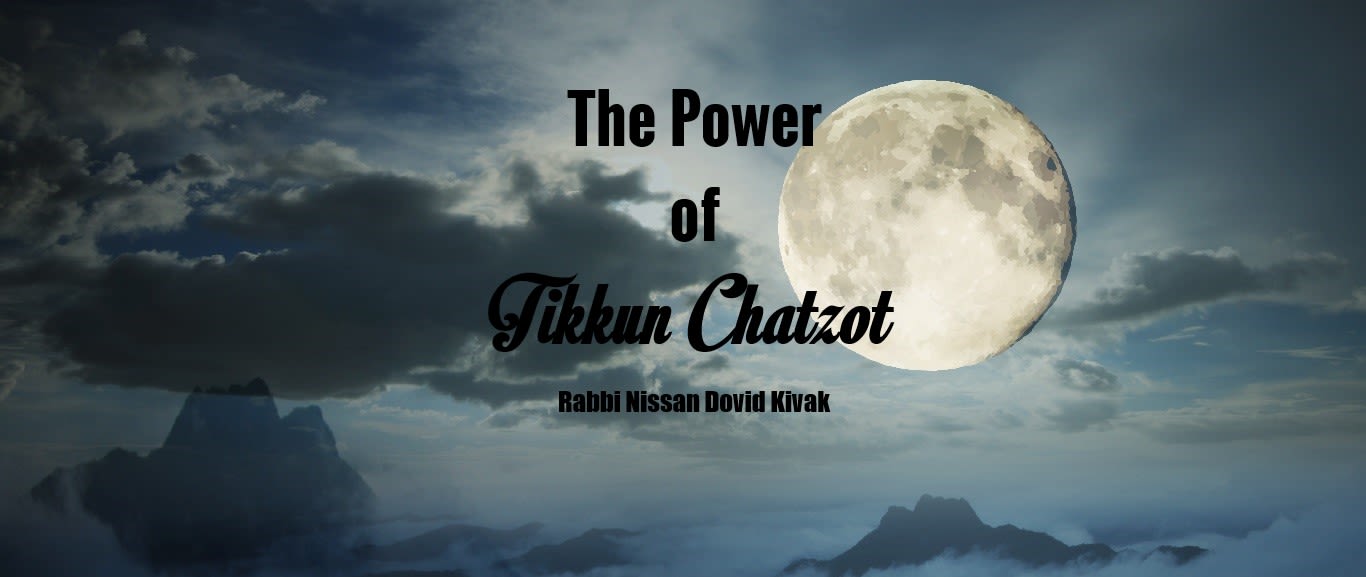 Translated by Aaron Yoseph
 
 
The Divine concealment is called the "two birds" and this is man's reality in this world.
 
"And it states in the Zohar HaKadosh: "And when the night is split (i.e. at midnight), then a call goes out, 'Like birds caught in a trap, so too are men caught.'"
 
Just like birds that are caught in a trap, so too do men stumble. They didn't intend to, it was accidental, but the forces of evil caught them. This is a man's life in this world, day after day. Misery and depression. Even if there's no real bad, everything's in order, just that here and there things didn't work out, and he worries about a few pennies, and there is some hatred in his home, and the grandchildren and the grandparents – there's always some new thing to worry about. It's all hot straight from the oven. A man just needs to sort this one thing out now, and then everything will be okay. This is the birds in a trap, where the supernal light is closed off.
 
At midnight the Attribute of Mercy is aroused. Although evil wants to pull us down, confusing us with
worries and depressing thoughts, we can overcome. With the holiness of Chatzot, midnight lamentations, with the power of learning Torah and clinging to Hashem especially in the wee hours before daybreak, we uplift ourselves from the trap that tries to ensnare us.
 
Rebbe Nachman tells about the rich Jew who had everything stolen from him. He picked himself up and gathered up what he had left and opened up a small shop to make a living. He wouldn't be rich, but at least he could make a living. The robber returned and stole everything he had in the shop. So he started traveling around selling chickens and clothing. He had his bag on his back, and the robber rides up again on his horse, "Hey, Jew! Give me your bag." He stole everything he had. Let's say that he accepted it all with love, and was grateful that he still had his life. "Baruch Hashem I'm still alive!" Suddenly he sees that the robber fell off his horse. The horse panicked and happened to kick him in the head, and he was a robber no more. The Jew went to get his possessions back, but found there many more of the robbers packages – a fortune, even more money than he had had at first.
 
So it is with all of us. All the stress of where to live, of making a living, of paying tuition for our children's Yeshivas – who can understand what a person goes through? He thinks that he's been beaten. But there is no injustice. There are soul corrections that a person needs to go through – that he has to stumble in all the things that break him down and crush him. In the end, we recover all that was stolen, plus a million times more than we lost. But in the meanwhile – we have to strengthen ourselves.
 
The Zohar HaKadosh speaks about getting up for Chatzot. The person who has the strength to overpower these "two birds" is the one who can get up at night. He's awake at night and he says Tikkun Chatzot and learns something – whatever it may be. He stops chattering, and does something to serve Hashem. Whoever doesn't get up is like the bird caught in the trap – he's the person caught in a trap, and he doesn't hear the niggun (melody) of the Torah. It would be easy for him to see something and be happy, but he doesn't do it. So he lives with lethargy day after day, and the lethargy grows together with depression, and he's caught like a bird. "I don't know what happened to me!" So too people stumble – when they don't have the power of Chatzot.
 
At midnight King David's harp plays – this is the power to receive the Torah. It's a wondrous niggun, where you know that Hashem took us out of slavery in Egypt. Emunah is aroused, and you know why you are alive. You know that everything you're going through is nonsense. This is how it is. Nu – when you need to do something, make yourself serious, pretend – relate to whatever it is normally – with emunah. "Who can do anything to me?" What are you worried about?
 
But when a person doesn't have the merit of Chatzot, he has no way to escape the trap. There are bad things that need fixing, but there are sparks to elevate us – that's what saying Tikkun Chatzot is all about. Midnight Lamentations help us recover what the "robber" stole from us; we get back the Beit HaMikdash, the Holy Temple.
***
To learn more about Chatzot, see The Sweetest Hour. This book explains the meaning and purpose of Midnight Lamentations, various laws, and times for Chatzot. A complete English translation of the prayers is included.
You can also learn about the halachot (laws) of Tikkun Chatzot in this video.