Bittersweet Chocolate-Pumpkin Babka
Pumpkin and chocolate are a delicious, but underrated combination. This parve babka makes a perfect dessert for Thanksgiving or Shabbat-holiday. It's also great as a breakfast bread. 
Posted on 21.11.22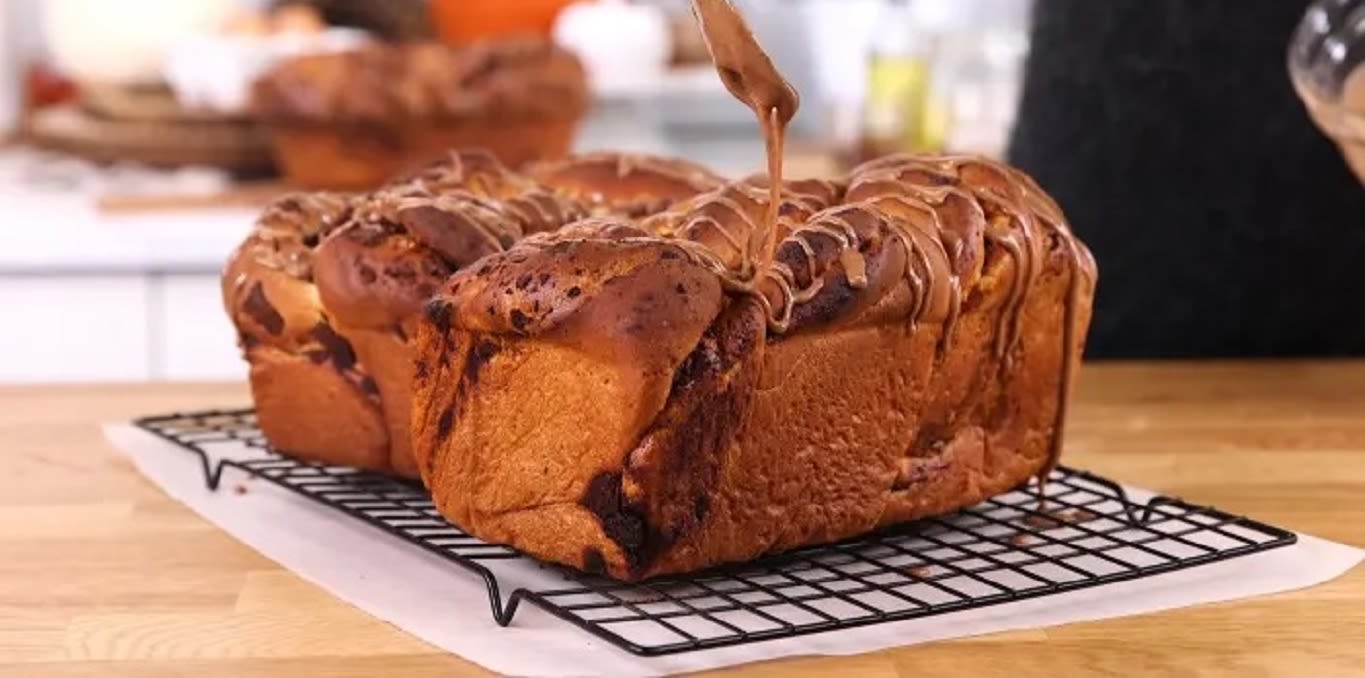 Pumpkin and chocolate are a delicious, but underrated combination. If more people tasted these two together, coffee shops would be changing their signature fall drink flavors to combine these two ingredients (pumpkin mocha–you heard it here first!).
This parve babka makes a perfect breakfast bread or Shabbat dessert.
Make-ahead note: If you don't have time to bake today, try a refrigerator rise. After making the dough, rub it with a little oil and place in a resealable plastic bag. Refrigerate for up to 2 days. When you're ready to bake, remove from the fridge, place dough in a greased bowl or on a parchment lined pan, and let come to room temperature. Then shape, fill, and bake!
Baking Time: 55 minutes
Preparation Time: 215 minutes (almost 4 hours-includes rising time)

Kashrut Type: Parve
Level of Difficulty: Easy to Medium
INGREDIENTS
SPONGE:
1½ cups hot water at 100°F

4½ teaspoons yeast or 2 (¼-ounce) packages yeast

1 cup all-purpose flour

1 teaspoon kosher salt
DOUGH:
1 cup extra virgin olive oil

⅔ cup honey

5 egg yolks

2 whole eggs

6 cups all-purpose flour
CHOCOLATE FILLING:
1 pound bittersweet chocolate, chopped

½ cup brown sugar

3 tablespoons cinnamon

2 teaspoons kosher salt
PUMPKIN FILLING:
1 cup pumpkin puree

½ cup confectioner's sugar

1 tablespoon ground cinnamon

Pinch of ground cloves

¼ teaspoon ground nutmeg

Pinch of kosher salt
CINNAMON GLAZE:
1½ cups confectioner's sugar

3 tablespoons water

1 tablespoon cinnamon

Pinch of sea salt
PREPARATION
Sponge:
Combine water, yeast, and flour in the bowl of a stand mixer. Cover with a towel and let stand for 30 minutes, until the surface looks like a sponge.
Dough:
To the sponge add oil, honey, egg yolks, whole eggs, and flour and mix to combine.

Add flour, a little at a time until dough is not sticky, but still has a bit of tackiness to it.

Transfer dough to a lightly greased bowl. Cover and rise for 2 hours. Or lightly oil the dough and transfer to a resealable bag and store overnight in the refrigerator (see Make-ahead note under photo).
Chocolate Filling:
In a medium bowl, stir together chocolate, sugar, cinnamon, and salt together. Set aside.
Pumpkin Filling:
In a medium bowl, stir together pumpkin, sugar, cinnamon, cloves, nutmeg and salt together. Set aside.
Shaping and Filling:
Lightly grease 3 loaf pans with oil.  Separate risen dough into 3 equal pieces. If using refrigerated dough, let it come to room temperature before shaping.

With a rolling pin, roll one piece of dough into a 16-inch square. Sprinkle 1/3rd chocolate filling on half of the square. Smear the other half with 1/3 of pumpkin filling. Roll dough up tightly into a rope, being sure to seal the ends.

Slice rope lengthwise and wrap the halves around each other at least 6 times. Fold rope in half and place in a greased loaf pan. Repeat with remaining dough. Allow babkas to rise for 1 hour. 

Preheat oven to 350°F. 

Bake babkas at 350°F for 40 minutes, rotating the pans halfway through. Remove from the oven and cool in the pan on a rack for 10 minutes. Remove babkas from the pans and cool on the rack for 10 minutes more. Drizzle with cinnamon glaze, slice, and serve warm.
Cinnamon Glaze:
Whisk together sugar, water, cinnamon, and salt. Drizzle over cooled babkas.
***
Jamie Geller is one of the most sought-after Jewish food and lifestyle experts worldwide. She is the bestselling author of 5 books and founder of Kosher Network International, publisher of JamieGeller.com featuring more than 10,000 recipes, articles, and videos.  Check out her new #1 Amazon Bestseller, Brisket 101 and her new family meal plan "Fresh Families" at FreshFamilies.us.