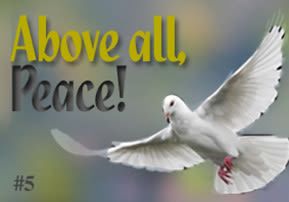 Above all, Peace!
Some rabbis instruct a Baal Teshuva to divorce a non-observant spouse. Rabbi Shalom Arush's hashkafa is entirely different...
Posted on 08.06.2008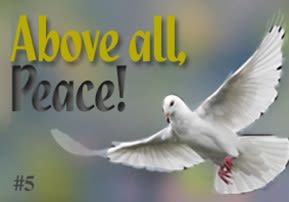 One Sided Teshuva, Part 5
The young man told me the whole story of the first time that he made teshuva and how the rabbis had told him that he had to divorce his wife if she didn't keep the Sabbath and become observant. He wasn't willing to lose his family and therefore shed his observance altogether. Now, he felt that the same story might repeat itself. He shunned from a scenario of his Sabbath observance, his wife's failure to comply, and my telling him to divorce her.
"Dear Rabbi," he said, choked with emotion and with tears in his eyes, "I so much want to return in complete repentance and keep the mitzvot, but I can't lose my wife and children. What can I do?"
"Divorce?" I said, "Of course not!"
He stopped crying and looked at me with eyes full of surprise, as if he couldn't believe it. "What? I don't need to get divorced?"
"Of course not. On the contrary, love your wife. Don't say a word to her about keeping the Sabbath. And don't make any comments to her about keeping a kosher home either. Just live your life without it having to obligate or disturb her in any way."
"Also", I added, "you must compensate her in all sorts of ways. Speak to her lovingly, compliment her, and buy her jewelry. Do everything you can to make sure she doesn't feel that your teshuva affects her. She shouldn't feel any competition from your observance. On the contrary, she should feel that it is only turning you into a more loving, devoted, and attentive husband."
He argued, "That's not what the rabbis told me the first time. They told me that it was a terrible thing, that if she broke the Sabbath, I had to break off from her."
"G-d forbid," I told him. "What has she done to you that you should throw her away like that? You love her, don't you? Is that the way to behave to someone you love? On the contrary, if you love her, wait for her and pray for her. Didn't Hashem wait a long time for you until you were aroused to repent? Now you can also wait for her."
I can't begin to describe the young man's excitement when he heard my approach, based on the rationale of emuna and peace. A feeling of tremendous joy replaced all his worries. He shouted, "There's hope! I can repent and still live in peace with my wife! I'll pray for her, and Hashem will bring her close, and we'll live together lovingly in the way of Jewish couples. How good Hashem is! How beautiful and sweet the Torah is!" He ran to thank Hashem and started praying that Hashem should help him to start anew and honor his wife, that she would accept his actions, and in the end join him in observing the mitzvot.
And so it was. He returned to observing the Sabbath and keeping the mitzvot. He told his wife about my lectures and gave her tapes. She also felt that there was a different light here, a different approach. Once she understood it, she loved it, especially when she saw how her husband began to treat her with absolute respect, devotion, and no comments or criticism. She began to attend my lectures, to listen to tapes, and to seek advice from me. Gradually, she too adopted the light of emuna and Torah. To this day, they are living together happily in the way of the Torah, educating their children in the way of the Torah, and are grateful to me for saving their lives, both physically and spiritually.
The Wise One's Eyes Are In His Head (Ecclesiastes 2:14)
Advice that didn't place peace above all else almost destroyed this man's family and his religious observance. What did the rabbis accomplish with their stringency?
Proper guidance that puts peace before everything else brings people closer to Torah and mitzvot.
A principle that permeates Torah says that a "wise man's eyes are in his head." In each situation we need to carefully consider what our goal is, and then plan the best course of action to achieve it. Being stubborn and dogmatic rarely gets us anywhere, and it indicates a lack of forethought and peace of mind. The Gemara requires a person to breach the Sabbath in order to save someone's life (see tractate Yoma 85), and says, "Break one Sabbath for him, so that he will keep many Sabbaths." This rule exemplifies our approach.
Applying this rule to this latter story, namely, that it was better that a few Sabbaths be desecrated by the wife, who never observed the Sabbath anyway, so that she, her husband, and their children would keep many Sabbaths in the future, by virtue of his keeping the peace.
To destroy the peace and the relationship on the pretext of observing the Sabbath would have led to none of them observing any Sabbaths, ever. Such dogmatic insistence comes from a lack of careful thought, and a lack of adherence to the words of our Sages that peace comes before everything else.
From these stories, which are just two examples out of thousands of instances, we can learn the message of this chapter. Keeping the peace is the key to life in general and married life in particular. Only through peace is it possible to merit true progress in life, in Torah, and in the service of Hashem.
Approaching Married Life
Men who want to merit peace in their homes must be convinced that peace is the greatest and most important commodity in the world. If they seek guidance with this mindset, then they are assured that they'll succeed. But, if they believe that there is anything more important than peace, they won't succeed. No book, lecture, or guidance will help anyone that doesn't first seek peace. Peace comes first!