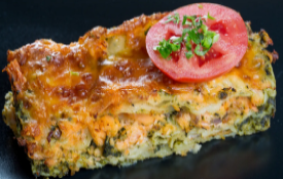 Salmon Lasagna
Instead of the traditional lasagna try salmon and cheese for a creamy, dairy dinner that will be a real hit. Bonus, you can use canned salmon.
Posted on 21.09.2021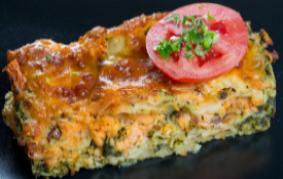 You can add more herbs or even thawed frozen spinach into the salmon mixture for more flavor and nutrition.
Preparation Time: 25 minutes
1 tablespoon extra-virgin olive oil
1 10½–ounce can cream of celery soup (98% fat free is good)
2 6-ounce cans salmon, drained
Freshly cracked black pepper
1 (8 ounce) package lasagna noodles, cooked
8 ounces mozzarella cheese (sliced or shredded)
½ pound white American cheese slices
2. In a pan, sauté onion and garlic in evoo until soft. Remove from heat, stir in soup, salmon, milk, and seasonings.
3. In an 8×12 inch pan; layer ½ the noodles, ½ the mozzarella cheese, ½ the salmon mixture and ½ the processed cheese. Repeat layers.
4. Top with parmesan cheese. At this point you can sprinkle more oregano on top, if desired.
5. Bake for 30 minutes at 350℉. Allow to stand 10 minutes before serving.
***
Jamie Geller is one of the most sought-after Jewish food and lifestyle experts worldwide. She is the bestselling author of 5 books and founder of Kosher Network International, publisher of JamieGeller.com featuring more than 10,000 recipes, articles, and videos. Check out her new #1 Amazon Bestseller, Brisket 101 and her new family meal plan "Fresh Families" at FreshFamilies.us.