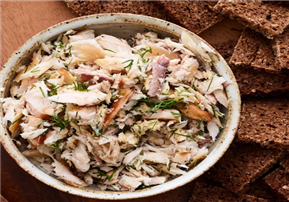 Cold Smoked Fish Salad
A welcome change from the traditional fish platter. Quick to make and delicious! Perfect for breaking a fast or as an entre.
Posted on 21.09.2021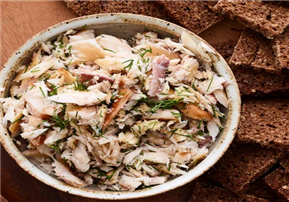 This recipe was inspired by a similar recipe by English chef Jamie Oliver. His version called for non-kosher shellfish, so this version is for the kosher connoisseur.
Smoked fish is a typical Sunday brunch item in many Jewish circles. This is a welcome change from the traditional fish platter.
Preparation Time: 6 minutes
2 pound assorted smoked and salted fish (sable, whitefish, nova, and kippered salmon)
1 tablespoon fresh ground horseradish
1 teaspoon coarse black pepper
1 tablespoon minced fresh dill
(Optional) seasoned flatbreads or party rye
1. Cut fish into bite-sized pieces and place in a bowl.
2. Add horseradish, pepper, and lemon juice and toss to mix. Garnish with dill and chill 1 hour before serving. Serve with seasoned flatbreads or party rye, if desired.
Jamie Geller is one of the most sought-after Jewish food and lifestyle experts worldwide. She is the bestselling author of 5 books and founder of Kosher Network International, publisher of JamieGeller.com featuring more than 10,000 recipes, articles, and videos. Check out her new #1 Amazon Bestseller, Brisket 101 and her new family meal plan "Fresh Families" at FreshFamilies.us.