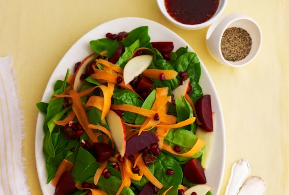 Simanim Salad with Pomegranate-Balsamic Dressing
This salad is perfect for Rosh Hashanah! It's gorgeous, healthy, and refreshing - a great balance to the usual heavy menus.
Posted on 11.09.22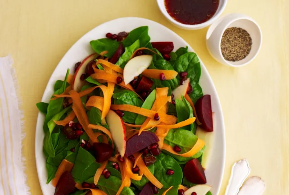 I am especially proud of this creation because I love to incorporate the simanim throughout my menu. This gorgeous, healthful, and refreshing recipe satisfies so tastefully— I wouldn't wait for the holidays to make it! 
 
This recipe calls for cooked beets. You can use boiled, canned, or roasted (my favorite!). 
Preparation Time: 10 minutes 
Level of Difficulty: Easy 
3 tablespoons extra-virgin olive oil, such as Colavita 
1 tablespoon balsamic vinegar 
1 baby spinach, washed and dried, checked for bugs

1 gala or pink lady apple, cored and thinly sliced 
1 large carrot, peeled and made into ribbons using peeler 
1½ cups quartered cooked beets 
Freshly ground black pepper 

In a small bowl, whisk together pomegranate juice, honey, olive oil, and balsamic vinegar. Set aside. 
Place spinach on a large platter as the salad base. Artfully arrange apples, carrots, and beets on the spinach. Sprinkle with pomegranate seeds.

Drizzle the dressing over the top, and season with salt and pepper to taste; or serve the salad undressed, and let your guests add dressing to their own plate. 
***  
Jamie Geller is one of the most sought-after Jewish food and lifestyle experts worldwide. She is the bestselling author of 5 books and founder of Kosher Network International, publisher of JamieGeller.com featuring more than 10,000 recipes, articles, and videos.  Check out her new #1 Amazon Bestseller, Brisket 101 and her new family meal plan "Fresh Families" at FreshFamilies.us.