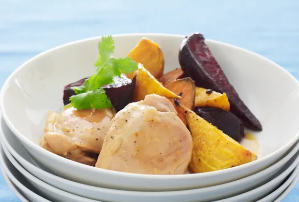 Orange Chicken Thighs with Beets and Sweets
This quick and easy recipe is great for Rosh Hashana when you're rushed with other holiday preparations.
Posted on 20.04.22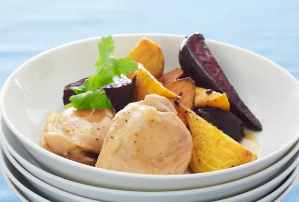 My mom is the one who told me to ask the butcher for boneless skinless dark meat chicken cutlets. She may not know how or even care to cook, but she sure has great taste in food. I love her for this discovery. Super common in Israel, most butchers stateside now carry this staple.  
For the "Beets and Sweets" part of the recipe, you can add a ½ teaspoon of cumin or more to taste. 
Preparation Time: 10 minutes 
Level of Difficulty: Easy 
12 boneless, skinless chicken thighs (about 3 pounds) 
1 ½ cups Gold's Duck Sauce 
2 large golden beets, peeled and cut into wedges 
2 large red beets, peeled and cut into wedges 
1½ pounds baby sweet potatoes, cut into wedges 
½ teaspoon ground cinnamon 
Cilantro, optional for garnish 
Place chicken thighs in a large deep sauté or sauce pan.
In a medium bowl, combine duck sauce, orange juice, oil, and salt and stir well. Pour over chicken and bring to a boil over medium-high heat. Cover and reduce to a simmer. Cook 25 to 30 minutes or until chicken is cooked through.

Meanwhile, prepare the beets and sweets. Preheat oven to 400°F. Toss beets and sweet potatoes in olive oil, cinnamon, and salt. Spread in a single layer on a baking sheet and roast for 30 to 40 minutes or until tender. 
Editor's Note: Due to reader feedback, we adjusted the measurements of duck sauce and oil in this recipe to lower the sugar/carb content. 
Jamie Geller is one of the most sought-after Jewish food and lifestyle experts worldwide. She is the bestselling author of 5 books and founder of Kosher Network International, publisher of JamieGeller.com featuring more than 10,000 recipes, articles, and videos.  Check out her new #1 Amazon Bestseller, Brisket 101 and her new family meal plan "Fresh Families" at FreshFamilies.us.